You might wonder where I've been holed up for more than a month. Never fear - I'm still slogging away. My current project is a dashboard for CF Webtools that tracks all of our consulting activity. CF Webtools runs a custom tracking and management system as a core component of our business. This system has many cool features that have evolved over the years for tracking hours, performance, tasks, groups of tasks, assignments, productivity, estimates, deadlines etc. Myself and my VP, Jason Herbolsheimer (a brilliant programmer and manager who you would all know and love if he would ever blog), have spent thousands of hours on it to make it fit our business model of transparency, measurable productivity and cash positive block hours.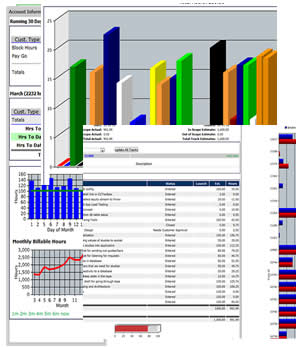 The reports and features it contains are useful, but a bit of a hodgepodge. Meanwhile, over time my role has changed considerably. Other than troubleshooting, mentoring and experimentation I'm not involved in day to day tasks directly with our clients any more. But I still monitor our overall productivity closely. Indeed, now that I'm a step back from the work I have a much better sense of what we are accomplishing and where our weak spots are. In the past I have used cfcharts called up on internal pages to show hours and individual developer performance but 3 things had changed.
We now have many more developers to track (29 at last count).
With 3000+ consulting hours per month the system receives a constant stream of updates, notes etc.
I have a fancy new set up with 3x27 inch monitors plus a 46 inch wall mounted monitor that looked lonely and I wanted some fancy-pants dashboard to display
Ok, that last reason is simple hubris but still, it was good enough to boot me down the path. But I had some decisions to make.